Happy New Year/Editorial

The purpose of this blog is to form aikido friendships around the world without political borders. I therefore invite all aikido enthusiasts to approach me with any aikido material they have.
The editorial wishes all international readers a happy and aikido-ful new year. Since the blog started in May 2009, there have been more than 7000 hits. I'm wondering when number 10,000 is reached (maybe in 2012?).
This month, we are reporting some recent events that have taken place around the new year.
I just got back from a thrilling trip in Isreal where, as well as meditating by the dead sea, I attended the Kagami Biraki new year celebration event at the Masatake dojo in Israel. More about this event can be found below. The new year is also a time to remember 2nd Doshu Kisshomaru Ueshiba as he passed away on January the 4th 1999. Further, this newletter gives reports about recent CABN related events (Mori Shihan in Greece and Siberian visits from Dutch Senseis Marcel Reijers and Robert van den Bosch).
Our wise oracle, Yoshinori Miyashita sensei, has declared the year 2012 as the year of health. We don't know how the situation will be in the world and the best we can do is to be at least physically prepared with a good nutritional intake, regular exercise and keeping fit physically, mentally and spiritually. Aikido will provide such a preparation so we hope to see you all soon training on the tatami!
Aiki-greetings,
Lawrence Warry
1. In Memory of 2nd Doshu Kisshomaru Ueshiba (1921 - 1999)
2nd Doshu, Kisshomaru with his father, O-Sensei
I don't think I'll ever forget that first day I entered Tokyo in the first week of January 2009 coincidently during the week that the 2nd doshu, Kisshomaru Ueshiba passed away (4th of January 1999). Each year, I am reminded about it and this year is no different.
Whilst his father, O-Sensei, developed Aikido, Kisshomaru Ueshiba was the mastermind behind the Aikikai, the group under which the goal was made to standardize Aikido practice to a formal structure.
2. Kagami Biraki
All around the world, the beginning of the year marks the time of "Kagami Biraki", an event in aikido which marks a new beginning, the flowering of friendships and the congratulating of newly graduated students.
In Tokyo, Japan, the Kagami Biraki takes place on Sunday the 8th of January this year. The global aikido community is awaiting with baited breath for news about friends' graduations in the dan rankings. We wish all our aikido friends a happy new year and an enjoyable Kagami Biraki wherever you may be celebrating.
On Saturday the 7th of June, I attended the Kagami Biraki new year and celebration event which took place at the Masatake dojo, Rehovot, Israel.
To bring in happiness to the year, a great Lion Dance performance took place under the skillful performance of master Tzahi and his Kongfu group. In addition, the audience was treated to Kendo and Aikido demonstrations and Aikido practice and a special Aikido class with 7th Dan Judo master, Yona Melnik Sensei, who taught safe and enjoyable methods to practice ukemi for Koshi Nage.
It was a happy, energetic and enthusiastic event with many new shodans receiving certificates at the dojo. Congratulations to all the new shodans and to the masatake dojo for leading the way and setting an example of how to run an aikido club successfully and make the some of the most enjoyable Aikido events.
3. Celebrating the number 5 in 2012
We wish to pass heartfelt congratulations two good friends who worked a lot and dedicated a lot of time to aikido in the past years both having been promoted to
5th dan Aikikai
at the latest Kagami Biraki in Tokyo, Japan. The following photos show the joy they have reached in attaining this new level.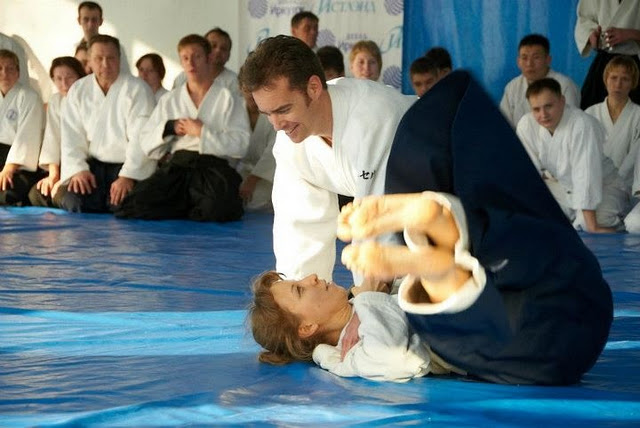 Congrtatulations to Marcel Reijers of the CABN, The Netherlands (Warakyu dojo, Dordrecht, Holland)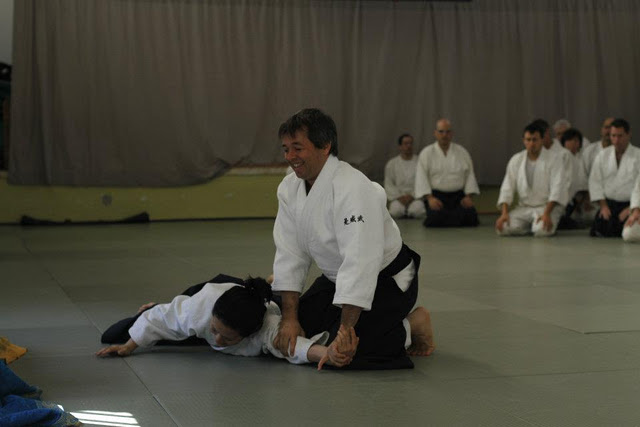 Congratulations to Ze'ev Erlich of the Israeli Aikido Association (Masatake dojo, Rehovot, Israel)
4. Mori Shihan in Greece by G

irogos Sardelis

Impressions from the seminar with Mori Tomohiro Shihan, (2011)
My little story is that this year I couldn't attend the seminar, since I was getting married during the very same weekend and my and my wife's family tradition is that such ceremonies last about ten days with the preparations, the ceremony and then the following celebrations. So even if I am in the middle of this celebration, I talked with friends who attended the seminar and I decided to write and post this article.
I believe that receiving a teaching coming directly from the Aikido World Headquarters is very important and it's a great honor for a Sensei, his students and his organization to have this opportunity every year. There is a message carried by the Hombu Shihans around the world. A message sent from Doshu Moriteru, his father The Late Doshu Kisshomaru (1921-1999) and The Founder Morihei (1883-1969). And when you get this message directly from someone who is a member of the source then you are getting, in a way, closer to the source, The Founder and Doshu.
This opinion, which is my view, has been confirmed once more from the impressions of my friends who attended the seminar with Mori Shihan and I repeat them here. Mori Shihan is a very nice person, a gentleman and possesses one of the most excellent levels of knowledge concerning the martial art of Aikido. This is what one of my friends told me. And I am adding that this man is- and this is obvious- a very active member of Aikido's tradition and development, leaded by Doshu. Training under Mori Shihan makes you feel that you come in contact with Aikido's past, present and future in real time. Yes, Iwama is the birthplace of Aikido indeed, but Hombu is the place where Aikido grew up, matured and became what is today, even for those Shihans who left and created their own organizations. Their starting point basically was also the Hombu.
In this seminar Mori Shihan was once again in a very good mood and taught in a very joyful, vigorous and yet harmonious way. He shared his knowledge with his movements, his techniques and his advices. The attendees were sincere and really tried to learn what Shihan was teaching. Here I will add my experience that is confirmed by the reports once more. Mori Shihan creates an atmosphere around him. I cannot give a definitive name to this atmosphere yet. It's a very innocent feeling where nobody whishes to demonstrate any technical or "political" power. You feel that only you, your partner and pure Aikido exist on the world. Plus, as one of my friends noticed, even in a big hall with many attendees training, you can't miss Mori Tomohiro. His presence is very discreet, but also distinct. Perhaps one of the reasons that you are getting this feeling is that Mori Shihan practices with everybody during the seminar, no matter the number of the attendees. He practices with too much energy, all the time during the classes, with everybody.
It's my belief- and I am in many ways an eyewitness- that there are many misunderstandings and misinterpretations circling the world Aikido community, concerning Hombu. My friends, who participated in this seminar, confirmed my opinion that Doshu and Shihans work hard at Hombu. What I mean by this? I mean that they work hard not only in order to keep and disseminate the original technical and spiritual axis of Aikido, which gives unity into a
multifaceted- by nature, Budo and at the same moment protecting the art from becoming something that The Founder never meant his creation to be. But also they keep this budo within the context of modern society, which always changes, especially nowadays.
In his seminar, Mori Shihan explained and demonstrated- among others- some very simple things and he opened new dimensions for reflection and training. My friends felt once more that Aikido is a magic martial art, since each simple detail of this Budo has a deeper meaning, if the practitioner is serious and ready enough to understand it.
It's true that if you have a great Shihan, coming directly from the source of Aikido, you have an excellent benefit. You come directly in touch with the past the present and the future of the art, expressed by The Founder, The Late Doshu, The present Doshu and The Future Doshu. This is the reason why I find the connection with Hombu and the name of Ueshiba essential and it's always a great honor to have Mori Shihan in Greece.
[Source:

The photograph of the article is a kind offer by Mr. Makis Potiris. Mr. Potiris is a friend, and an Aikido instructor who out of love for Aikido- even during these difficult times of Greece- he is opening a new Aikido dojo, contributing to the further development of Aikido in our country. Plus, he is a man who even if his profession deals with the real social violence, he chooses to practice and teach The Art of Peace

.]
5. Siberian visits from Dutch Senseis
Recently, the Dutch senseis Ernesto Ladavas Sensei (6th dan aikikai), Marcel Reijers (5th dan aikikai) and Robert van den Bosch (4th dan aikikai) have been making Russian aikido heads turn in Siberia due to the various trips in the past year to the cities of Barnaul, Irkutsk and Vladivostok.
Here-below is a report from the recent trip of Marcel Reijers sensei (assisted by Erwin Nijhof).
Aikido trip to Irkutsk (Siberia) by
Marcel
Reijers
On thursday the 24th of november we flew to Irkutsk via Moscow. My student Erwin accompanied me during this 6th Aikido visit of me to Russia.
After a terrible short night with no sleep we arrived in Irkutsk in de the morning of the 25th. We went straight to the Irkutsk Hotel where we checked in and had to change immediately. Fortunately the dojo was located on the 2nd floor of the hotel.
Between getting out of the plane and stepping on the tatami was less than 1,5 hours.
Many Aikido friends had travelled for many days to attend my seminar. In addition to the chairman of the federation Mr. Alexander Petrov, people from Barnaul, Krasnoyarsk, Ulan Ude, Chita and of course Irkutsk were present.
Throughout the weekend I taught about one hundred adults and fifty children.
As always my host Mr Bator Rinchine (and his student Ms. Darya Bakhaeva) did everything in their power to give me and Erwin a good time, accompanying us on lunch en late dinner and treating us with a visit to a (cold) lake Baikal.
The first day we started slowly by all kinds of themes on gyaku hanmi katate dori. The four basic tai sabaki's taught by Fujita Shihan were present in the lessons.
The children's classes were very full as usual, but the children wanted to learn a lot and the nice part is that I now recognised a lot of children from the last time, I actually see them grow over the years.
In the evening we took up yokomen uchi and studied different angles on this attack.
After a good night sleep, with some awakenings because of the jet lag, we started fresh on the second day. Even more people were on the tatami, it was nice to see that people from different Aikikai Organisations in Irkutsk were attending my classes and working together harmoniously.
The focus of the rest of the seminar was on ushiro ryote dori and ushiro eri dori. We also practiced a lot on kata dori and of course other themes.
By the end of the third day everybody was very tired and while some students were travelling back by train, the different teachers in the Siberian Aikikai accompanied us on a great farewell evening, which also encompassed a Russian Banja.
We celebrated another great Aikido weekend.
Every time I go to Russia, I like the atmosphere of hard practice and good friendship. I thank Mr. Bator Rinchine and Mr. Alexander Petrov again for the invitation and hopefully in the near future I see all my Russian friends again.
Marcel Reijers Sensei (5th dan Aikikai)
6. Japanese Word of the Month (Onegai)
In our training we often use the phrase "Onegai Shimasu". What does it mean? The most important and valuable word within this phrase is "negai" which comes from the word "negau" - means, to pray or to wish for something. Adding to it "O" is just like the "O" in O-Sensei. It gives a more polite sound. It makes it more humble and honoring. "Shimasu" means "to make / to do".
So, when we bow to our teacher or to our training partner, we make a wish to train together. We show clearly that our teacher and our partners are not taken for granted.
Onegai Shimasu dear friends, I pray and wish to train with you in 2012.
Ze'ev Erlich, Masatake Dojo, Israel.
7. Announcements
The next CABN seminar will take place in the island of Ameland (17 - 21 February 2012).
8. Greetings to you all and Thank you Lawrence from Ze'ev (Israel)
I would like to thank Lawrence for his wonderful and kind visit and participation in the Kagami Biraki event at our dojo. Lawrence also taught and practiced with us in the regular training sessions after new-year day. I miss you all dear friends, and I hope to train with you in 2012, and to see you again. Your dojo's member's kind and big heart always inspires me. You are always welcome to visit and train with us here in sunny Israel.
Happy New Year 2012. Good Luck and Happiness to everyone.
Israel www.aikikai.org.il